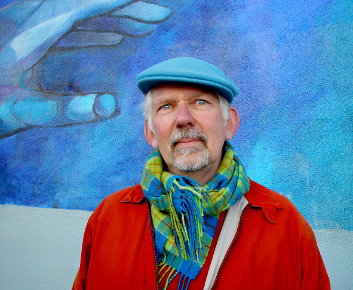 Born and edu­cat­ed in Cleve­land, Gary Bukovnik has lived in San Fran­cis­co for more than a third of a cen­tu­ry. Pri­mar­i­ly using the media of water­col­or, mono­type, and lith­o­graph, Bukovnik fus­es sen­su­al vital­i­ty with flu­id yet pow­er­ful col­orations, cre­at­ing flo­ral and culi­nary images of great depth, inten­si­ty, and size.
In 2003 and 2005, invit­ed Bukovnik was Vis­it­ing Artist at the Amer­i­can Acad­e­my in Rome in 2003 and 2005 and was an artist-in-res­i­dence at the Michi­gan Insti­tute of Arts in Kala­ma­zoo in 2010, as well as mak­ing a tour of exhi­bi­tions and water­col­or demon­stra­tions across Japan in 2010.
Solo exhi­bi­tions include Cald­well Sny­der Gallery in San Fran­cis­co and in St. Hele­na, CA, Camp­ton Gallery in New York City; the Con­cept Gallery in Pitts­burgh, the A.C.T. Gallery in San Fran­cis­co, and the Bon­foey Gallery in Cleve­land. Oth­er recent exhi­bi­tions have been orga­nized by the But­ler Insti­tute of Amer­i­can Art, Youngstown, Paula Brown Gallery, Tole­do, Neuhoff Gallery, New York; Lisa Kurts Gallery, Mem­phis; Irv­ing Gal­leries, Palm Beach; Galerie Kut­ter, Lux­em­bourg; the South­ern Alleghe­nies Muse­um of Art, John­stown, Penn­syl­va­nia; Chin Show Cul­tur­al Cen­ter, Taipei; Takashimaya, Tokyo; the Hunt Insti­tute for Botan­i­cal Doc­u­men­ta­tion, Carnegie Mel­lon Uni­ver­si­ty, Pitts­burgh; and Bre­vard Muse­um of Art, Mel­bourne, Florida.
Watch an inter­view with Gary here.